Our Favorite Bike Trails in Houston
As the publication Urban Outdoors points out, Houston probably doesn't initially read to many as a "great outdoor city." If you take the time to look into what Space City has to offer, though, you quickly find it's also a great place to appreciate being outside.
Every corner of the city includes plenty of opportunities to enjoy the meeting of urban and natural spaces. This is especially the case if you want to explore Houston behind the handlebars of an e-bike like the ZuGo Rhino.
The bike's pedal assistance can help riders stay fresh even with cycling during Houston's hottest, sunniest days.
Houston Parks and Recreation manage over 163 miles of trails that run along streets or through the city's bayous and parks. Unless otherwise posted, they're available for mixed-use, giving e-bike riders a wide array of options to enjoy.
If you might be experiencing a bit of decision paralysis in light of all these choices, don't worry. We've taken the time to assemble a primer of our top 10 favorite bike trails in Houston. Our guide will help you get started on exploring Hustle-Town. Before long, you too will appreciate how great an outdoor city it can be.
Article Quicklinks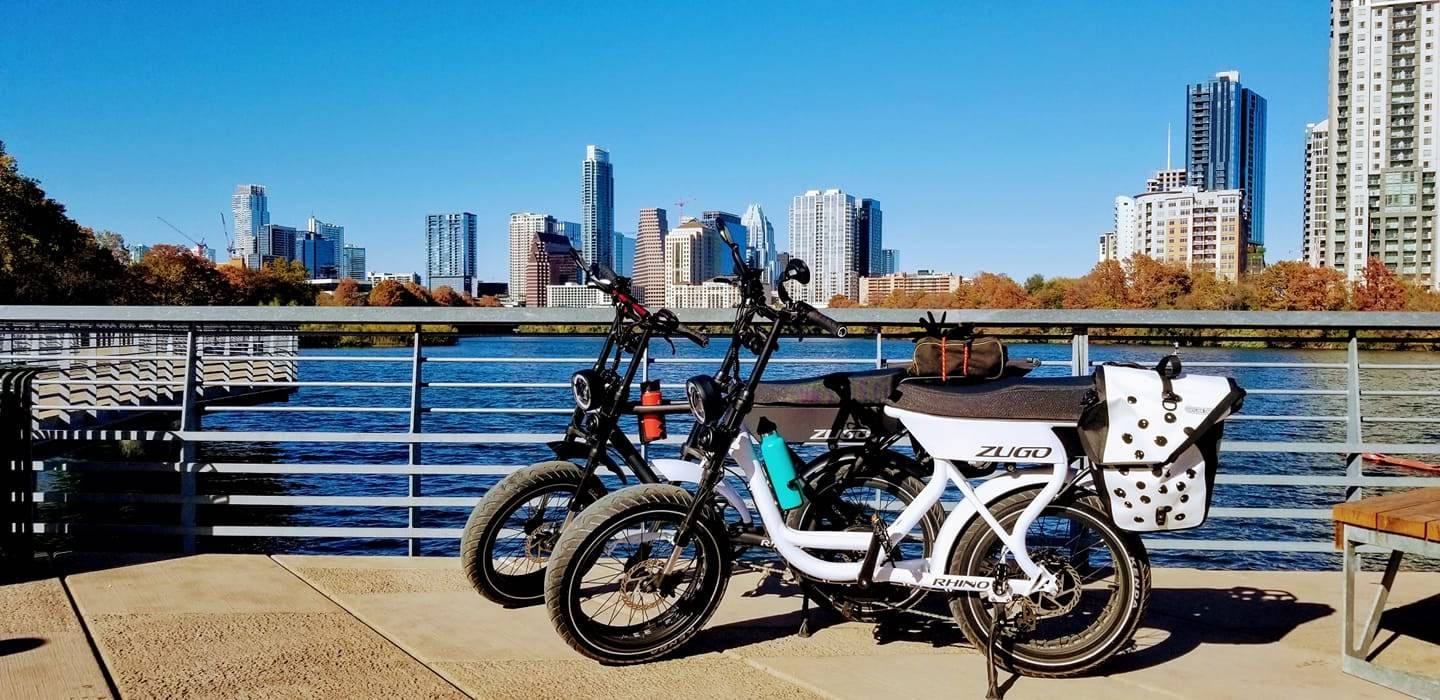 Buffalo Bayou Trail
Offering about 15 miles of fully paved trail, Buffalo Bayou's "one of the most ideal Houston bike trails for an urban immersion experience," according to the Urban Outdoors. It's a journey that'll take e-bike riders through several of Houston's well-maintained parks, along the waterway and includes a visit to the Glenwood Cemetery, the first professionally designed cemetery in Houston history.
For those excited to take a look at Buffalo Bayou but looking for a shorter ride, the city also boasts a five-mile loop within the trail that's conveniently located close to Space City's downtown.
Heights Hike and Bike Trail
The Heights Hike and Bike Trail features another nearly five-mile loop e-bike riders will find satisfying. If you don't recognize the name, you may know it as either the MKT Trail or the MKT/SP Rails, both names evoke the path's previous history as a rail line.
With a mix of great views of the city skyline and excellent flora, it's a short, visually rewarding dogleg that'll take you right into the heart of downtown. Plus, it helpfully connects with both the Buffalo Bayou Hike and Bike Trail and the White Oak Bayou Greenway, if you feel like you want to explore Houston further.
Finally, if vibes and historical homes are what you seek, the Heights, considered the artistic neighborhood of Houston, gives both in large supply.
Brays Bayou Greenway Trail
Buffalo Bayou's popularity can sometimes make it a fairly busy path. If you want to put yourself and your e-bike through its paces, you might prefer something a little less traveled. If that's what you're after, Brays Bayou will likely fit the bill.
Described by The Urban Outdoors as, "a quieter sibling to White Oak and Buffalo Bayous," Brays has a set of four paths that add up to around 14.5 miles to ride.
If you're a rider that prefers to take breaks and visit the sights, Brays provides plenty to make you happy. At about the halfway mark, it'll take you through Hermann Park. Besides beautiful in its own right, Hermann Park will allow e-bike riders quick and easy access to the Houston Zoo and the museum district.
Another park on the path, MacGregor, boasts a pool, a community center, and a playground. It's a popular spot for locals and visitors alike.
What makes Brays attractive, as well, is the city's clear investment in maintaining and enhancing the trail. Besides ongoing updates and improvements, the Houston Parks Board has designated it as part of a massive project that connects 150 miles of Greenway for foot and bike travel across the entire city.  
George Bush Park Hike and Bike Trail
At 7,800 acres, George Bush Park is an urban playground for those city-dwellers that love nature. The offerings include a wildlife habitat and an array of ballfields and places to picnic.
The main attraction for e-bike riders is the 11 miles of paved track. The Urban Outdoors calls it "one of the most underrated Houston bike trails," and praises its variety of terrain and sights.
All in all, it's a great destination location, a place to ride, meet friends, see animals, and enjoy some time snacking in a large green space still in view of Houston's Energy Corridor.
Memorial Park
The beauty of Memorial Park, besides the literal natural beauty, is how it gives riders a range of possible experiences depending on how much you want to challenge yourself.
Looking to just take it easy and stretch your legs on the e-bike a bit? The loop around the picnic area has what you need.
Motivated to work up a sweat and get your heart rate up? The Ho Chi Minh Trail is a moderately difficult 7-mile loop that'll satisfy that craving.
Memorial also features one of the few trails in Houston that provide an unpaved experience. These gravel paths can provide an off-road riding experience for those who prefer that over the smoothness of asphalt or concrete paths.
If you're part of a family considering not just visiting the Bayou City, but living there, Memorial Park should be on your radar for other reasons. Located in one of the most popular neighborhoods for families in the Houston area, it can be a good place to meet fellow families and make friendly connections.
After you do establish those connections, the picnic loop will be a great place to get together and have fun.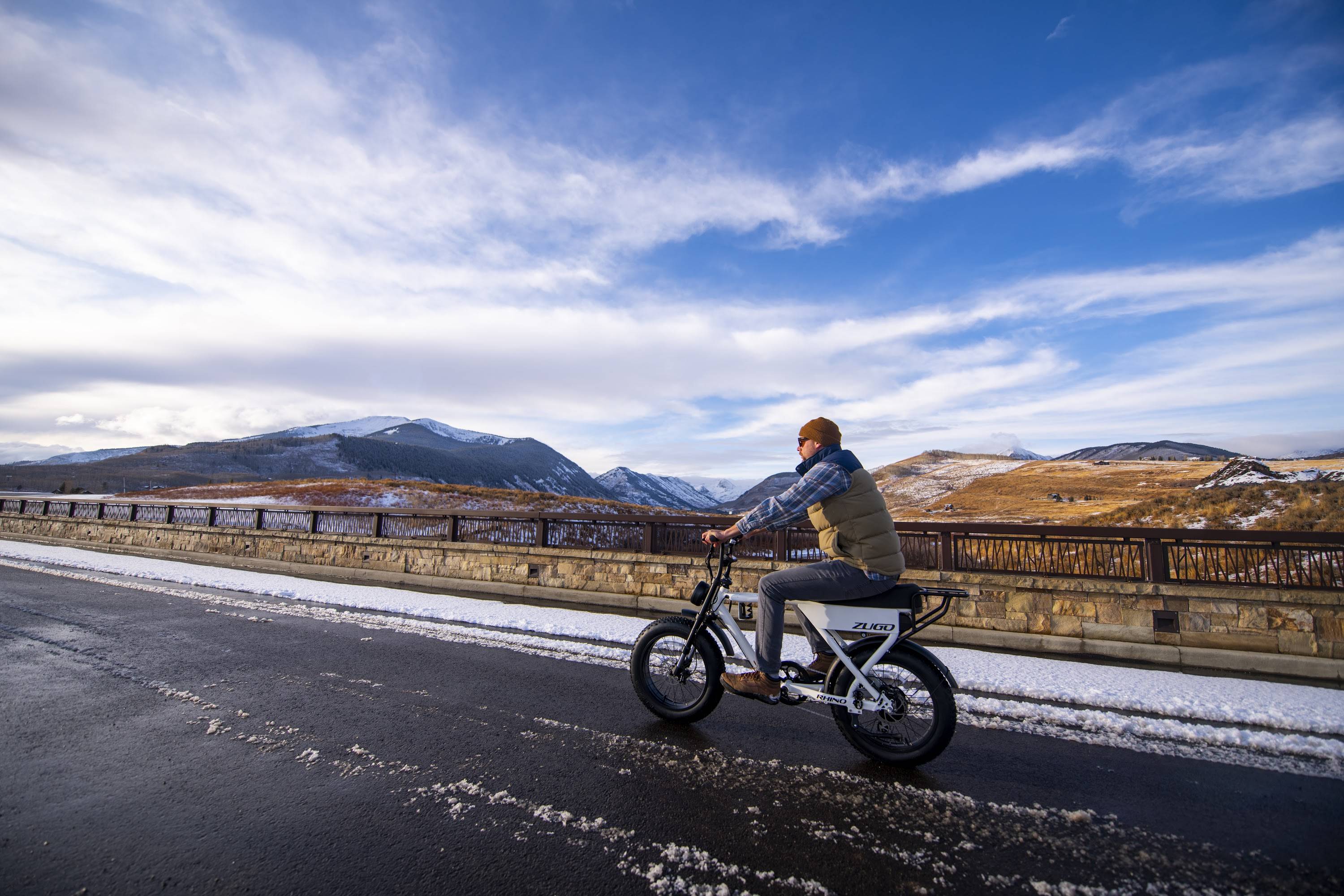 White Oak Bayou Trail
At 17 miles, White Oak can lay claim to one of the longest uninterrupted trails in Houston. As a result, it's a very popular choice for cyclists and e-bike riders.
If you need a break from city living, White Oak might just be the place to go. Save for the overpasses that occasionally run over the top of the path, the ride's quiet and fills your vision only with nature.
However, the path doesn't isolate you so much that it'll take a long time to make it back to the city. The moment you're ready to dive back into urban areas, White Oak can deposit you in the Central Business District. The breath of fresh air you crave and then right back into the city you love.
Rice University
Welcome to 2018's fourth most beautiful campus in the entire United States. Rice has an established reputation for its grounds not just making new students feel comfortable, but visitors as well.
Well-shaded and featuring eye-catching water features and impressive oak trees, Rice University isn't a long ride, but it's a comfortable and gorgeous one. Also, like Memorial Park, Rice boasts one of the few options for gravel riding if you're an e-bike rider who prefers that off-path experience.
Rice also connects with Hermann Park, like Brays Bayou Greenway, and therefore it puts it only a few more pedal rotations away from the museum district and the Houston Zoo.
Greens Bayou Greenway
Another member of the Bayou Greenways 2020 project, like the Brays Bayou Greenway mentioned above, Greens Bayou can give riders not just its own 7.3 miles, but also access to the 150 trail miles of the project.
On its own merits, itoffers a path through two parks—City View and Tom Wussow. Wussow, in particular, is a promising destination with covered picnic tables, a YMCA, and several playgrounds.
The Fault Line Trail
If you're riding with your family, the Fault Line Trail might be right up your alley. It's a shorter ride than most but it includes a rich history for those fascinated by pre-historic times as a bonus. Its placement in a suburban neighborhood and right next to an elementary school also makes it a great place to get to know your neighbors and meet a ton of dogs.
Terry Hershey Park Hike & Bike Trail
Named for the conservationist that President George H.W. Bush once called a "force of nature" Terese "Terry" Hershey, the park represents her efforts, starting back in 1966, to ensure the environmental viability of the Buffalo Bayou.
Fittingly, given how they worked together to pass the National Environmental Policy Act in 1970, the Hershey Park Trail connects with George Bush Park and its hiking and riding trails.
Like so many of Houston's trails attached to parks, the Hershey Park Trail includes other amenities including a playground, picnic areas, restrooms, and exercise stations, a real added value.
---