What Is the Best Electric Bike for Teens?
Electric bikes are gaining in popularity for people of all ages, including teenagers. Why do teenagers love electric bikes? The answers are obvious. They offer a fast, convenient, low-maintenance way to get from point A to B. They are safer than motorcycles, and unlike motorcycles and other types of automobiles, do not require licenses. (In fact, Maine has the highest age requirement of any state that regulates e-bikes, and that is only 16).
While many parents may hesitate to allow younger family members onto e-bikes — a perfectly understandable approach, as waiting until age 18 is indeed the overall safest choice when it comes to allowing an electric bike for teenagers — if you are considering an electric bike for teens, you cannot do much better than the ZuGo bike.
Article Quicklinks
Why Rhino Step-Thru?
As an electric dirt bike for teens, the Step-Thru model offers unmatched ease of use and particularly benefits novice riders. Find out why Rhino Step-Thru can be such an incredible e-bike for teens.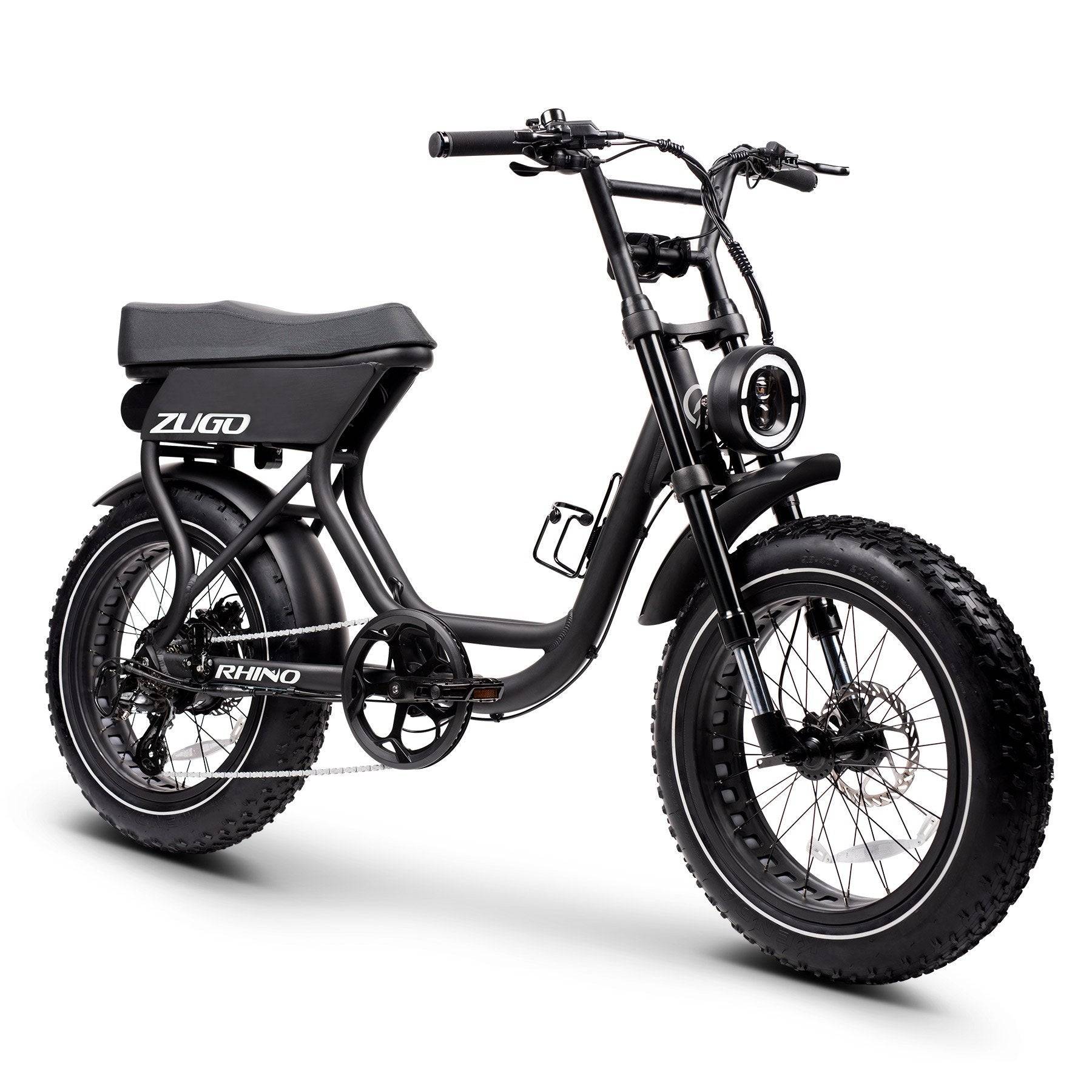 Convenient Size
Both the Rhino and Rhino Step-Thru are high-quality electric bikes. However, the Step-Thru is a little easier to mount for smaller riders and slightly more geared towards riders with a shorter frame (the suggested rider height for the Rhino is 5'1" - 6'5", while the recommended height for the Step-Thru is 4'8" - 6'5").
While both electric bikes are undoubtedly convenient to ride, particularly for experienced bike riders, the Step-Thru has an added level of convenience for younger bikers.
Excellent Battery Life
Both the Rhino and Rhino Step-Thru can be purchased with up to a 21Ah (1008 watt-hours) lithium removable battery, allowing for 50-80 miles of riding distance on each charge. This hefty battery life can be sure to get you where you're going and back. For teenagers, who likely will not be traveling substantial distances on their own, this range is more than enough!
Teenagers can sometimes be forgetful, so assuming they are likely riding around town, it's not a problem if they forget to recharge the battery. Of course, if their battery ever dies while out on a ride, they can simply pedal it like a regular bike. In some ways, that is the best part of owning an electric bike!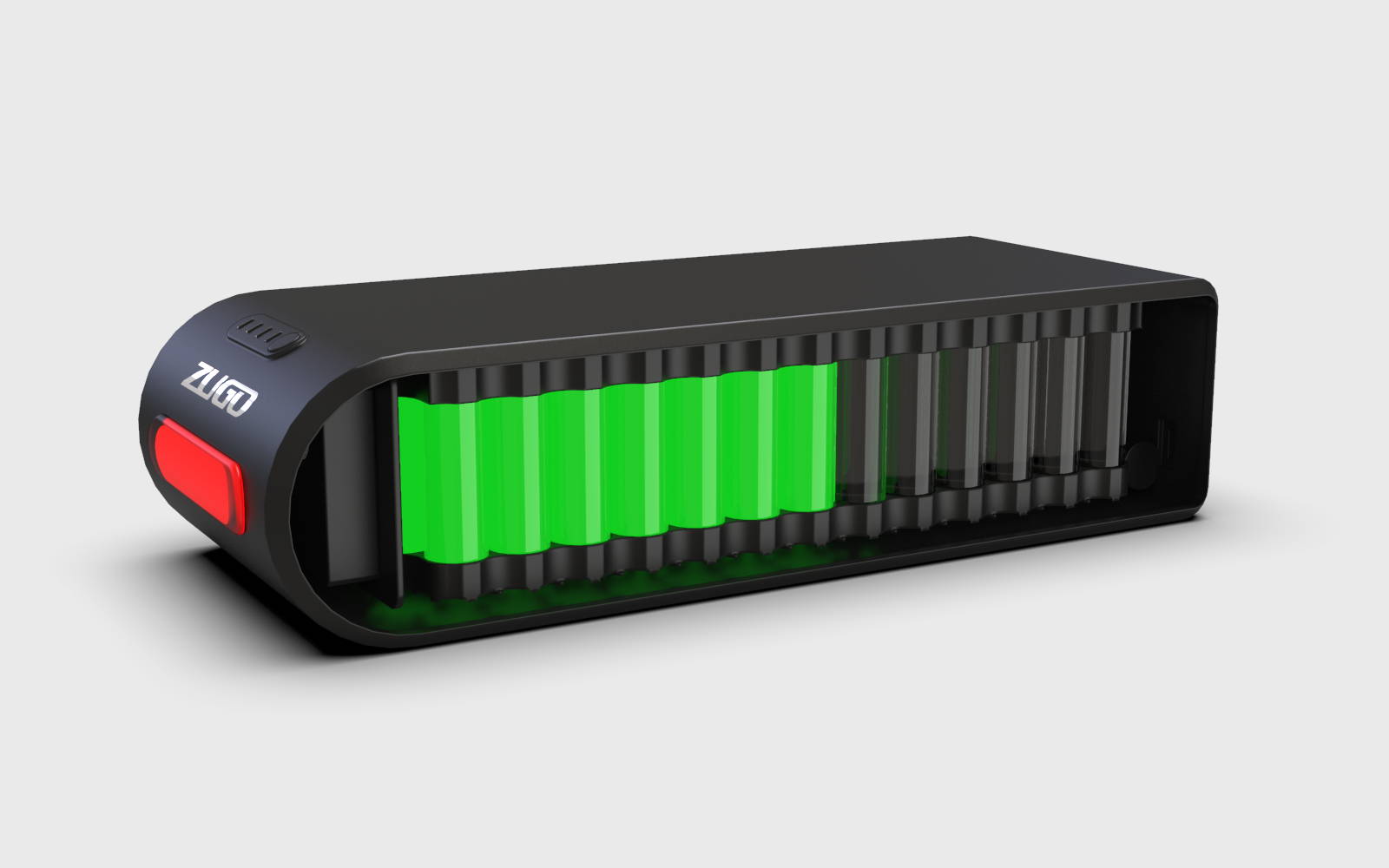 Safety First
As a parent, your primary concern is always the safety of your young ones. Rest assured that a Rhino Step-Thru is safe for riders of all ages.
First, the Step-Thru (like the Rhino) has hydraulic brakes with 2-piston stopping force. Whether a teenager is biking on the street, in the woods, on gravel, or somewhere else, these brakes are up to the challenge of preventing contact, even in abrupt circumstances.
But the brakes are hardly the only safety feature of this model. The Step-Thru's all-terrain fat tires, and double wall punch-out rims, ensure added stability on all types of surfaces. These excellent tires can handle abrupt transitions from one kind of ground to another.
Don't forget to consider the frame. The Step-Thru's aluminum alloy frame is sturdy and strong. A collision is never ideal, but rest assured the step-thru has the strength to hold up well even in case of an impact.
Finally, the Step-Thru's 1200 lumen headlight can keep the surrounding scenery well-lit, ensuring it is visible for the bike's rider and that the bike is visible to both cars and other pedestrians nearby.
Stay Connected
Teenagers frequently wish to exert their independence, which can cause concern for parents. Rest assured that with a ZuGo Step-Thru Rhino, your teen will be able to stay connected easily, no matter where they are biking.
The Step-Thru contains a USB phone charging port, conveniently located on the handlebars, allowing your teen to ensure that their phone battery stays charged — and they stay reachable — even on long bike rides.
Why An Electric Bike?
The Rhino Step-Thru certainly has several excellent features that make it a great choice for teens. But as a parent, you may be wondering — why get an electric bike at all?
In any discussion about the best electric bike for teens, it is worth remembering why an electric bike is a good choice at all. Here are a few pertinent reasons.
A Great Alternative to a Car
Depending on your state, your teenager may be able to drive at an age as young as 16. But understandably, many parents are wary of their children driving at this age. After all, operating a motor vehicle is an enormous responsibility, and concerns about distractedness, fatigue, and even drugs and alcohol can be significant with teenagers.
An electric bike offers a novel alternative to a car. It allows teenagers to have more flexibility in movement than they would on a conventional bike — after all, the electric motor of the Step-Thru may allow for up to 80 miles of biking. But it also is not as intense a machine to operate as a car, truck, or motorcycle.
On a conceptual level, an electric bike can offer teenagers a sense of responsibility, particularly if they are responsible for paying for and maintaining it. Appropriately, it is a lower-stakes commitment than maintaining their own automobile.
Good Exercise
It is also well-understood that e-bikes can provide excellent exercise for people of all ages. It is vital for teenagers to be out and about and active, for both physical and emotional health. An electric bike offers these benefits while ensuring their bodies and minds are not over-stressed.
Get Your Electric Bike Today
An electric bike can be an excellent option for people of all ages — and especially for teenagers. While there is a long list of options, it is difficult to beat the reliability, sturdiness, and security of a Rhino Step-Thru.
If you are interested in a Rhino Step-Thru or in learning more about electric bikes, contact ZuGo today. We have a wide selection of e-bikes and accessories and can help you find exactly what you're looking for!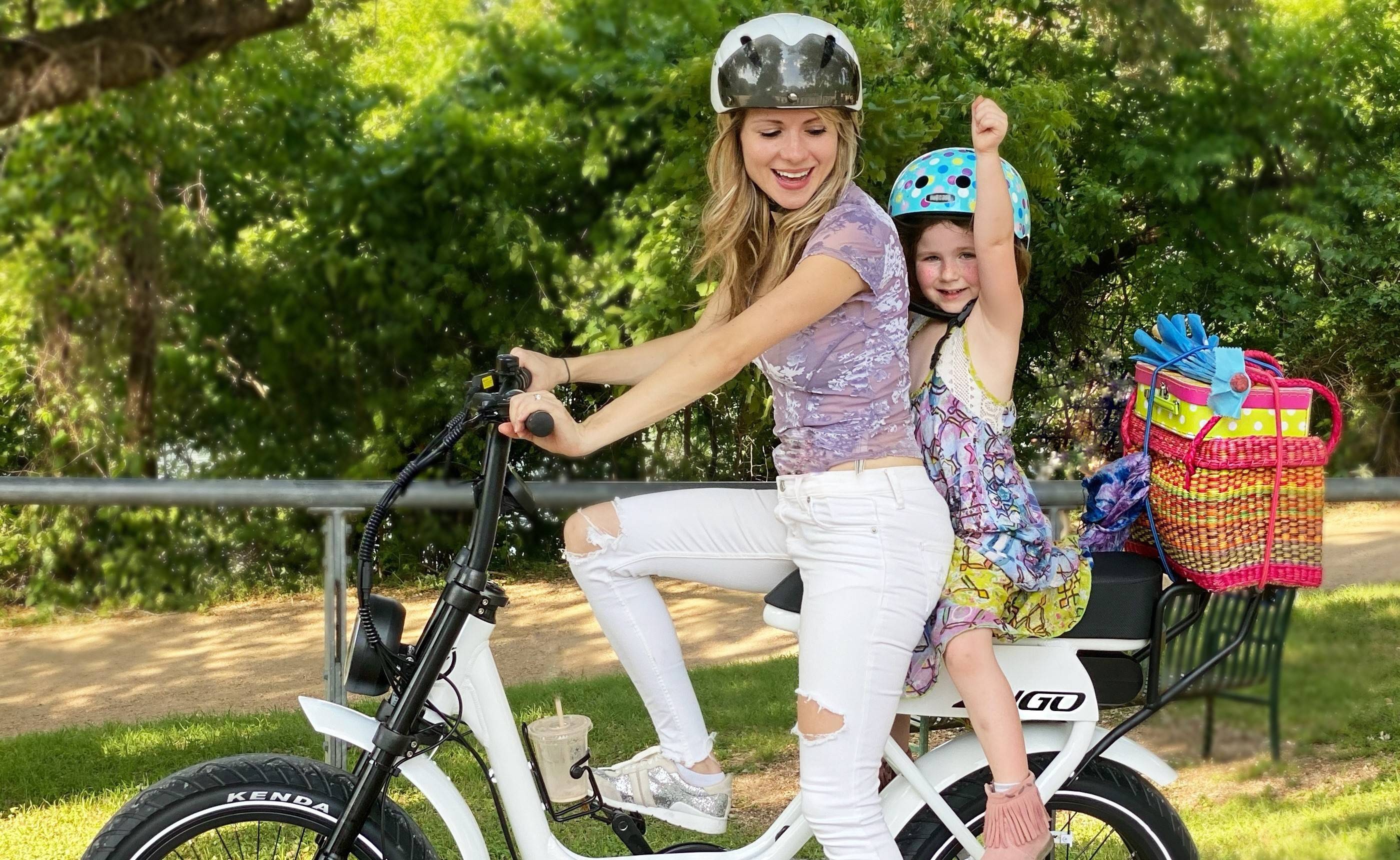 ---