What Is a Step-Through E-Bike?
A steady increase in environmental conscientiousness has led to the creation of affordable, emission-free transportation options. Bring on the e-bike.
A popular urban transportation choice, an e-bike features an electric motor to provide pedal-assistance during use, meaning riders can exert significantly less effort than they would riding a traditional bicycle.
Fast, flexible and friendly to your fitness and the environment alike, the e-bike just might be here to stay.
Article Quicklinks
What is a step-through e-bike & how is it different from a step-over?
The key feature of the step-through e-bike is its frame.
Bicycle construction typically refers to frames which fit into the following two categories:
Step-through

Step-over, or standard construction
Step-through bikes, as the name suggests, allow the rider to cleanly step through the bike to reach the pedals on the opposite side. Various styles of step-through models will feature a range of clearance, with some bikes having a second small bar that sits lower by the pedals, and others only having a bottom support bar.
Step-over bikes, in contrast, require the ride to step over the central bar of the bike frame. This classic bar travels from the seat structure to the front to the handlebar support, and can be straight across and level with the ground depending on the model or be on an angled slope.
The step-through design keeps the rider in an ergonomically correct position while riding, reducing strain on the back and hips, and increasing comfort. In addition, many riders find that sitting upright - as opposed to leaning over the handlebars - significantly increases visibility
Initially, the step-through style was created with women in mind, as it enabled women to wear long skirts and maintain their modesty while riding. Today, however, the uses of the step-through model are far more varied!
Many step-through bikes keep the rider in an upright position, where many step-over models have you leaning forward. Sitting upright is generally a more comfortable position, especially for people who face back problems or mobility issues.
The benefits and disadvantages of a step-through bike
Some benefits of the step-through style include:
Low clearance.

This makes the step-through a great bike for elderly riders, riders of shorter stature and those with limited mobility

Less chance of damage to clothing.

Because step-through bikes have lower clearance, there is less risk of snagging a hem, making them a great fit for commuters dressed in business attire.

Easier mounting and dismounting.

The lower bar means you don't need to worry about swinging your leg over in order to mount the bike.

Sturdy.

Perfect for supporting heavier weight, a step-through model may be able to support two riders at once (the

ZuGo Rhino E-Bike

comes equipped with complimentary folding footpegs for exactly this purpose).
There are a few disadvantages of step-through bikes, including:
A smaller area on which to mount accessories

. Less frame space ultimately means less space for accessories such as water bottles, backpacks, or air pumps.

A heavier frame.

Some bikes may have a significantly heavier frame than traditional step-over models (The

ZuGo Step-Thru

being a notable exception)

More difficult maneuverability.

You may need to adapt how you hang, store, or handle your bike due to the differences in frame.
Why step-through bikes make great electric bikes
If you are in the market for an electric bike, step-through models are a common choice. Several elements make a step-through bike ideal for using an electric motor, as it:
Is practical, functional, and easy to use

Keeps the rider in an ergonomic position

Is suitable for making frequent stops, as the rider can mount and dismount easily

Is perfect for commuters, as there is minimal risk to clothing

Has a motor tucked away out of the rider's reach
Many e-bikes make terrific choices for anyone looking to take on a long ride or a ride that covers multiple elevations. If you find yourself continuously climbing hills, the pedal-assist feature may give you a welcome reprieve.
Fast acceleration and overall speed make covering considerable distances significantly easier. Not to mention that those long commutes to work may be more enjoyable than on a classic pedal bicycle.
If a lack of a comfortable ride is an obstacle to you taking to the road, the ergonomic design of a step-through bike has the potential to reduce back strain and other ride-related soreness.
Should I get a step-through e-bike?
Choosing your first e-bike can be a big decision.
In general, the step-through model is a popular choice, as it ensures for a smooth and comfortable ride, no matter the speed or distance.
Irrespective of which model you choose, swapping to an electric bike could be a great way to reduce your carbon footprint while maintaining a cost-effective and versatile method of transportation.
Who are step-through e-bikes good for?
While anyone can enjoy riding a step-through model for their daily commute to work or recreational trips, it may be particularly suited to certain riders, including:
The elderly

Those of shorter stature

People with limited mobility

Delivery drivers

Office workers wearing formal attire

Individuals who need to sit upright while riding

Those who experience back strain riding a traditional bike

Those who appreciate the sleek design of a step-through frame
Even if you do not fall into these categories, you can still enjoy riding a step-through e-bike as a means of regular transportation.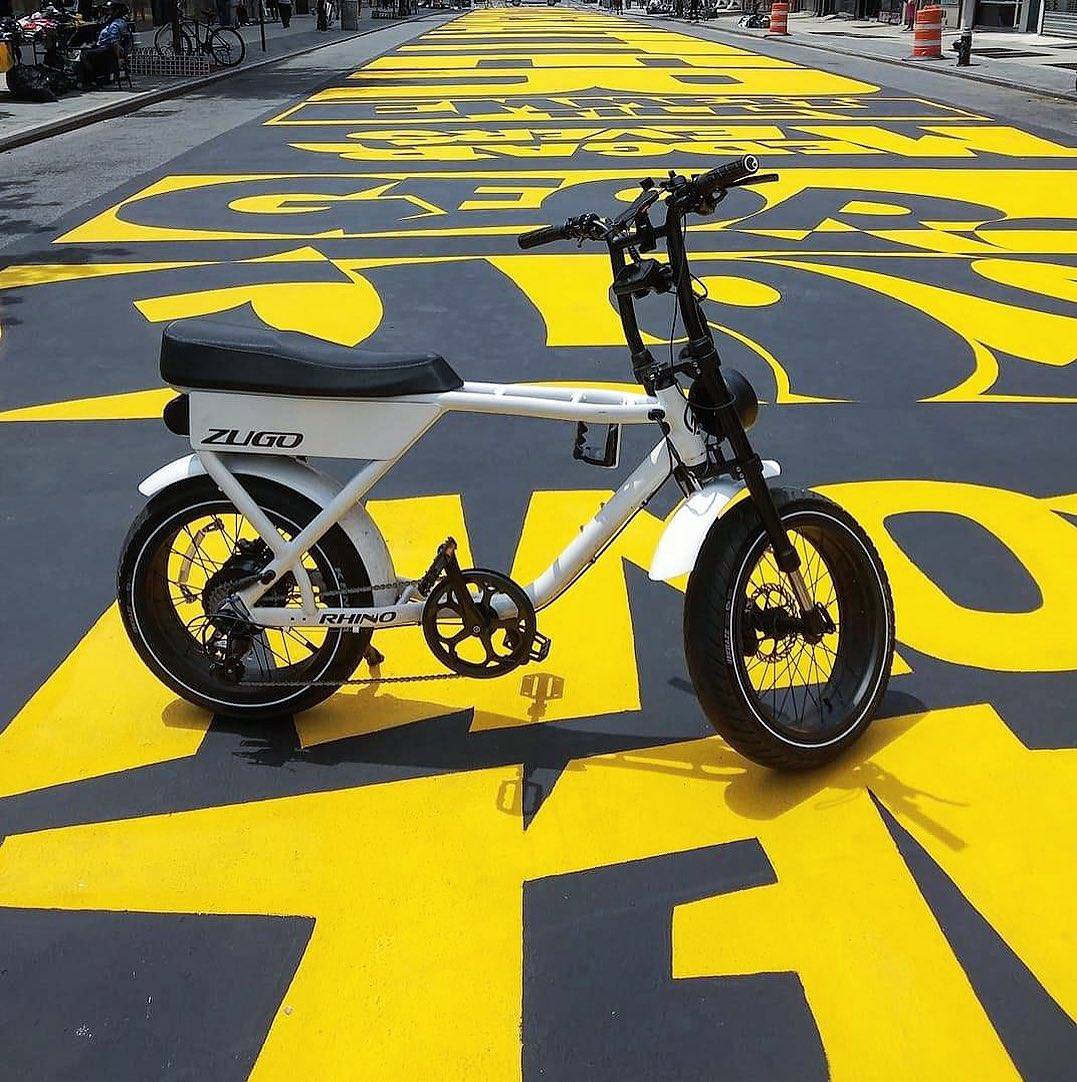 Introducing the ZuGo Rhino Step-Thru
The ZuGo Rhino Step-Thru stands out as one of the best step-through electric bikes in this category.
An attractive and functional choice
The ZuGo Rhino Step-Thru comes in three colors: matte black, gloss white, and iridescent purple. You can choose from two battery options: the standard option which lasts for 30-60 miles, or the long-range battery which lasts for 50-80 miles, depending on terrain.
The sleek design of the Rhino can support riders anywhere from 4'8" up to 6'5", with the handlebars adjustable to 4'9". In addition, the weight capacity of this e-bike from ZuGo will support up to 325 pounds, making it the best step-through electric bike for almost anyone.
Its soft, extra-long seat and passenger footpegs make the Rhino perfect for two riders, so grab a friend and get going.
Exceptional technological features
The Zugo Rhino includes an exceptional display with IP67 dust and waterproof electronics and connectors for extraordinary operation. Getting caught in the rain isn't a worry with this-bike, as the high-quality design ensures all the digital features are protected and safe from the elements.
With a USB phone charging port on the handlebars, you'll always be able to access your phone - maps, apps and all.
Specialty Options
With or without add-ons, you will be traveling in style with the Zugo Rhino. From the Lumen headlight to the 2-piston hydraulic brakes, the high-quality craftsmanship of these features makes all the difference.
Want to try a step-thru e-bike for yourself?
If purchasing an e-bike has been on your mind lately, choosing a step-through model may be a solid choice for you.  
For those commuting to work or just an enjoyable long ride in your spare time, step-through e-bikes are a cost-effective and comfortable option, while being an environmentally responsible alternative to other e-vehicles or traditional bicycles.
Try taking to the road with a ZuGo Step-Thru Rhino, and see for yourself.
---