E-Scooter vs E-Bike - Which You Should Choose?
More and more cities are beginning to move away from infrastructure that primarily supports cars, and many are offering electric bikes and scooters as an alternative. Commuters are starting to recognize the appeal of breezing through rush hour traffic, and the result is an uptick in micro-mobility. When it comes to which electric ride will work best for you, i.e. e-scooter vs e-bike, there are some important questions you will need to ask yourself before you hit the road.
Article Quicklinks
Why Ride Electric?
What about class bicycles? It is a great alternative to cars for sure but consider your commute or trip type. An analog bike is not a great option for every situation. If you need to get across town for work in the middle of the hot summer, showing up sweaty and tired if you biked is not fun. An e-bike can make that trek much more manageable and pleasant, especially if you live in a hilly area.
Owning an electric bike or scooter comes with many benefits. Below are just a few ways that it can change your life for the better.
Safely avoid the traffic and rush hour in your city

Never worry about finding parking again

Avoid the expense of buying a car, paying for gas, and purchasing insurance

Skip the cost of cabs and uber

Avoid the crowds on public transportation
Be in control of your trip, whether it's out to dinner or off to work, you can utilize and manage your time more wisely if you do not have to worry. On longer trips, you might even be able to combine your modes of transportation, such as taking a train to the nearest stop and hopping on the scooter or e-bike to finish up the last leg.
Electric Bicycle vs Electric Scooter: Factors to Consider
Do you want an electric bike or scooter? To make the right decision, there are several factors you should consider, including convenience, speed, range, price, ease of use, and safety. Evaluate your daily travels and what you need from your trusty ride as you think about how ditching the car at times is going to make you a healthier and happier human.
Convenience
When it comes to convenience, the e-bike is the better choice. An e-bike typically comes with a much larger range of amenities such as rack space, more battery range, higher speeds, better bad weather performance, and longer distances. The convenience of seated comfort is also a benefit of the e-bike. The weight of the motor and battery generally requires many electric bikes to have larger frames and tires than conventional bicycles.
The convenience of scooters is mostly in portability. Scooters are typically foldable and can be easily carried and stored. They are most convenient for travelers that need the option to quickly hop on a train or in a cab. They have add-ons that can accommodate limited storage, but that can weigh them down and take away from the portability.
Speed and Range
There are advantages and drawbacks to the speed of smaller electric vehicles. E-bikes can reach up to 30 mph or more, but they are also more strictly regulated than scooters. Class 1 and 2 e-bikes in the U.S. are regularly limited to 20 mph max and 28 mph for Class 3. However, if your commute requires a lot of weaving in and out of traffic, speed will not be a concern. The same can be said about e-scooters, commuters who use these in high-traffic areas, rarely need to max out the speed.
Overall, e-bikes have a much better range at 70 miles or more, while e-scooters generally have a 40-mile range at most. Some e-bikes even have the option to extend the range to up to 80 miles. E-bikes have the added benefit of remaining functional if the battery runs out, whereas a scooter is harder to use with a dead or dying battery. If your concern is extended travel time, the e-bike is the best choice.
Price and Utility
E-bikes are almost always more expensive than scooters, but the difference in price is relative to the differences in speed, range, storage capacity, and required maintenance. E-bikes require insurance and anti-theft technology, which add to the cost. However, in comparison to a car, the e-bike is an exponentially lower expense.
Without question, the e-bike is the better option for cargo. Electric bikes are built to accommodate many accessory options, including:
additional seating on the back,

small and large racks for the front, back, or both, depending on your cargo needs,

chariots for children or trailers for additional cargo,

panniers and other bike bags,

an extra battery pack and bike repair kit,

and a first aid kit.
If your plans for use include shopping and carrying more than just a backpack, the e-bike will be more convenient.
Safety
Overall, the e-bike is also the better choice for safety. Scooters are positioned closer to the ground and have small wheels. Bikes are larger and more sturdy, and the wheels and suspension capabilities are better suited for bumpy, unpredictable terrain. However, in a congested area, you might feel safer knowing that you can simply hop off of a scooter to avoid a collision, but keep in mind that most cities with scooter rideshare options report higher rates of scooter accidents than conventional bikes.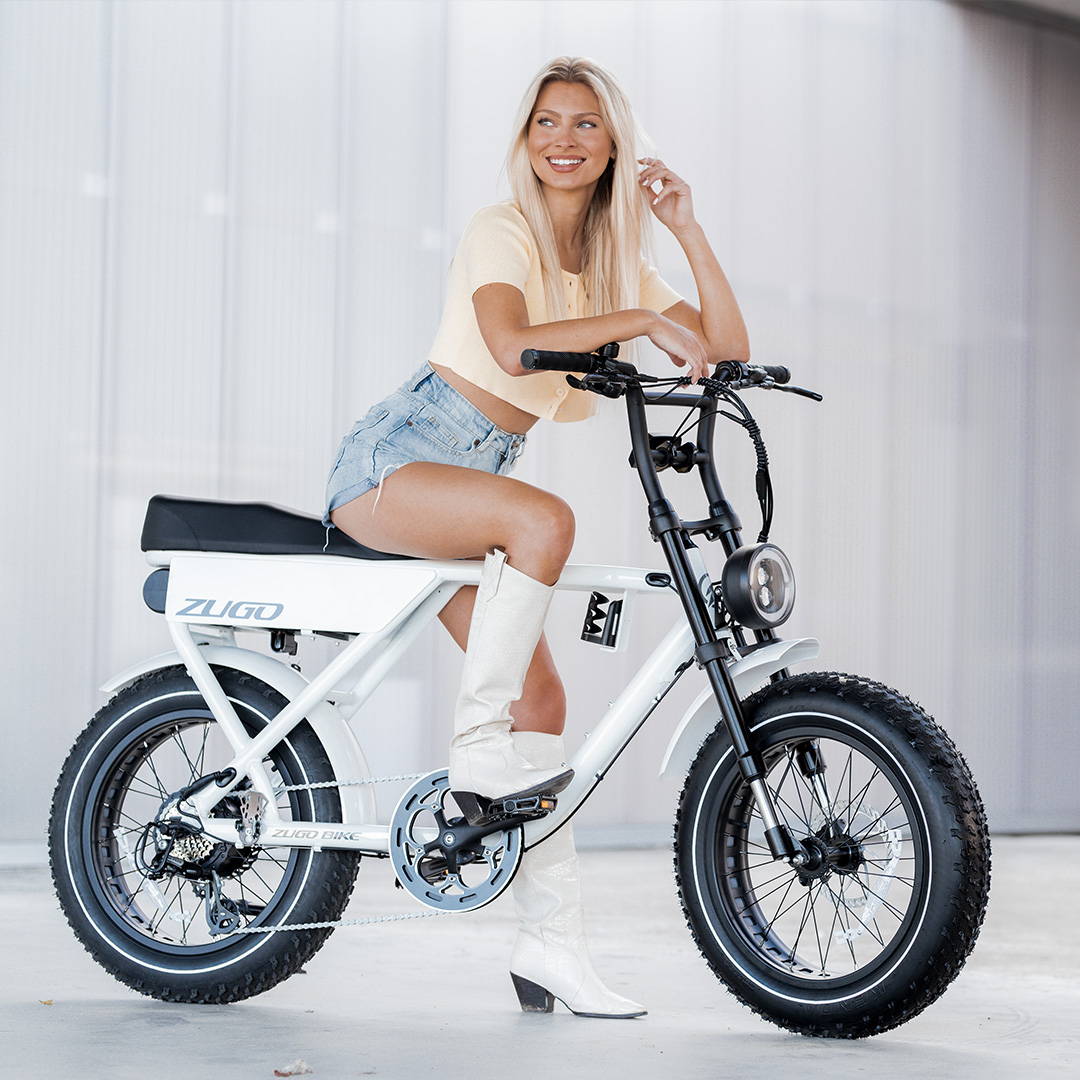 Conclusion
The difference between an electric bike and scooter primarily comes down to how you plan on utilizing your ride. If the only purpose is simple transportation, then go with an electric scooter to get you around town quickly and without spending a fortune doing so! But if pursuits include longer distance riding, commuting, errands as well, then think about investing into something more robust like an ebike. Either way, both are excellent options over cars for travelers that are looking for a more convenient, environmentally friendly way to commute.

When you're in the market for an ebike take a look at the options from ZuGo Bike. We will see you out on the road!
---